Welcome to E M Cole Farms Ltd
E M Cole Farms ltd is a family based business located in the village of West Pinchbeck, Spalding in the South Holland region of Lincolnshire
Cut Flower production is the main focus of the business, we have over 60 years experience as cut flower growers and our up to date methods ensure efficient and timely production. Our current flower crops include Tulips, Lilies, Scented Stocks and Sedum.
You can find our Tulips and Lilies in Waitrose.
The Farm
The farm covers over 150 acres and cropping includes cereals and root crops.
Crops on the farm include Wheat, Sugar Beet & Potatoes, with Oil Seed Rape used to give a rotation complying with good farming practice.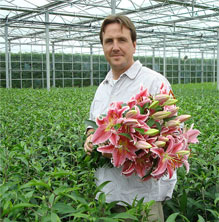 E M Cole Farms Ltd was started by Eric and Mae Cole in 1927 and is now run by the third generation.
James Cole studied Horticulture at Oakland's College from 1988-1991 NDH and graduated with a distinction.
On James' return to the nursery in 1991 the business changed direction from supplying wholesale markets with a wide range of flowers to a more streamlined production with multiple retailers. James together with his father Ivor worked very hard to expand the business with the emphasis always on high quality in volume.